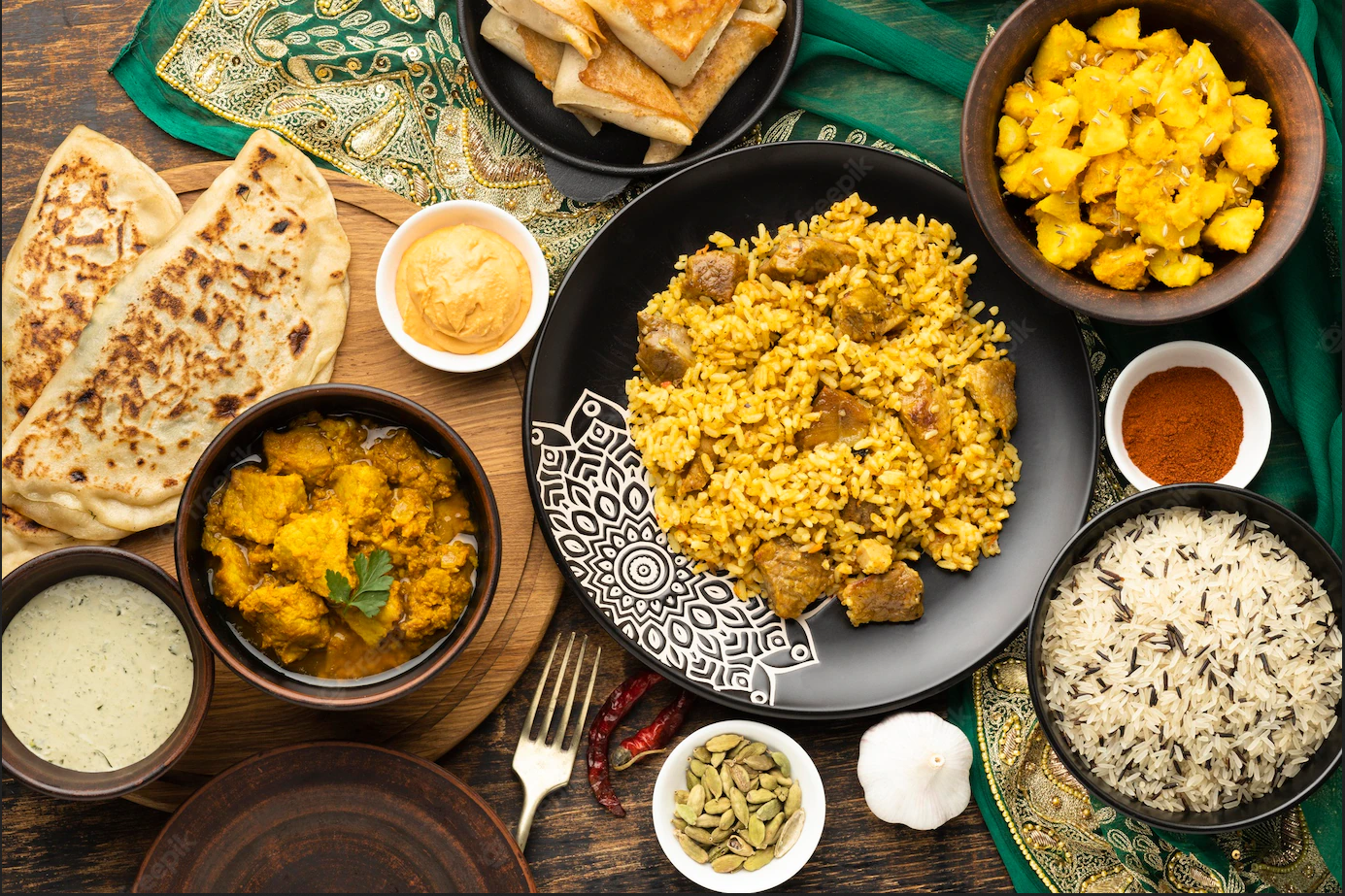 Indian cuisines are world-famous for a reason. Did you know that India is called the land of spices because no country in the world produces as many varieties of spices as India?
Most Indian foods prepared have spices that add to the taste of food and make the food very healthy. The spices are so beneficial that the demand for Indian food has multiplied for quite a few years. You must be surprised to know that, as per statistics by Scoopwhoop, there are around 80000 Indian restaurants in America that prepare all kinds of healthy Indian food.
India is a land of festivals, and every new festival brings a new food item to the table! It can get complicated when you want to try cuisine from the diverse land of India, as there is an entire universe of food and flavours waiting to be explored. Various foreign individuals are reluctant to try out spicy foods. However, once you start eating different Indian foods, you realize that Indian cuisines are not always spicy. They are a perfect blend of sweet, salty, sour, astringent and spicy or whatever you love.
Indian food and dishes are unique due to the variety of flavours and area-specific food preferences.
In the following paragraphs, let us discuss some of the best Indian cuisines that the masses crave!
Remember that time you and a friend sat for supper at an Indian food café. The smell of curries and other rich flavours stir your senses. There is a bustling rattle of pots and dishes coming from the open kitchen. Your mouth is already watering as you patiently wait for your delicacies to be served.
Each mainland is famous for specific kinds of food. However, we've incorporated a speedy rundown of the most famous dishes from Indian cuisine that we think you need to try!
In the following paragraphs, let us discuss some of the most delicious Indian cuisines.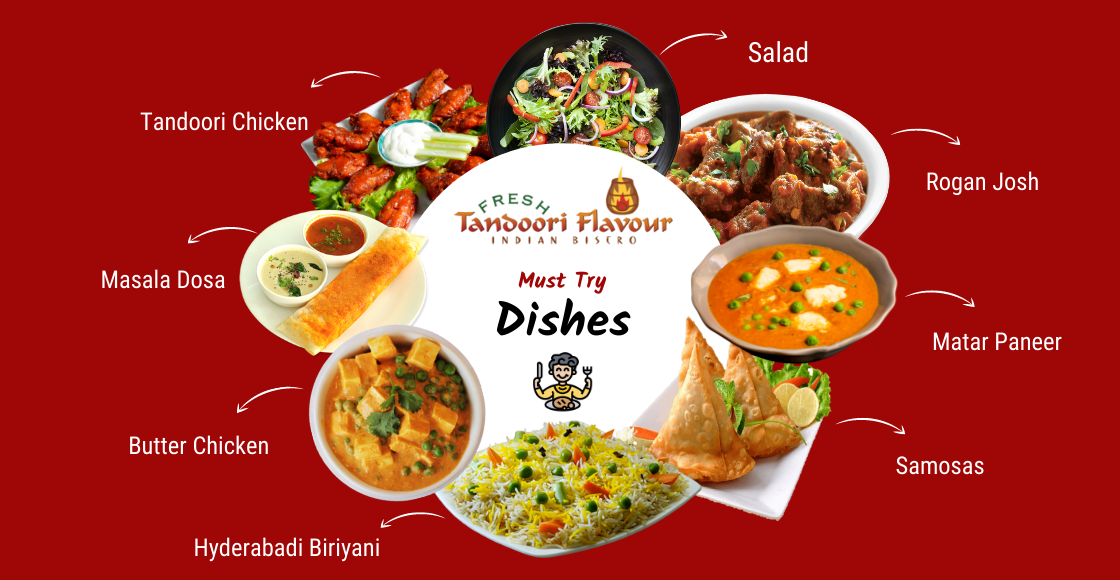 Butter Chicken

Butter chicken is mouth-watering, delicate chicken cooked in spiced pureed tomatoes and milk cream over a pan.
The gravy is made by cooking tomatoes, garlic, onion, chillies, and other flavours until it changes its colour to bright red.

It has a creamy texture, precisely the first thing you crave when trying Indian cuisine. Whether you're in India or planning on trying Indian cuisine, butter chicken is a must!

Samosas

Samosas are a very famous traditionally made Indian food. They are delicious, fried/baked pastries with savoury fillings. Spiced potatoes, onions, peanuts and lentils are what fills these traditional samosas. This lusciously cooked Indian dish is usually served with sweet mint chutney.

Samosas are generally vegan and can be found in every corner of Indian streets! Indians and samosas go hand in hand!
Hot Samosas with chutney along with cutting Masala chai is a must-try!

Matar Paneer

Here is one more dish from the neverending list of Indian Cuisines. Paneer is considered to be a very healthy Indian food and is a must-try!.

Matar paneer comes from locales of northern India. It comprises yummy pureed tomatoes mixed with paneer (farmer's cheese) and peas spiced with garam masala. Like any other hot Indian dish, Matar paneer goes best with a side staple dish like rice, paratha, poori or even Naan.

Rogan Josh

Rogan josh is a staple from Kashmir (North India). Rogan Josh comprises braised sheep meat cooked with sauce. For the most part, Indian cooks make this sauce from seared onions, yogurt, garlic, ginger, and sweet-smelling flavours.

Known for its marvellous red colour, a good rogan josh uses ample measures of dried Kashmiri chillies.
The majority of the zestiness of Rogan Josh comes from the delicious fragrance of the dish. When in Kashmir, rogan josh with steaming basmati rice is a must-try!

Tandoori Chicken

Tandoori chicken is a famous North Indian cuisine of grilled chicken with curd and Indian Spices. It has a distinct flavourful scent that will deliver the perfect taste. It is usually served with salad and mint chutney.

This delicious dish of chicken meat goes well with hot rice and crunchy butter naan.

Masala Dosa

This conventional south Indian dish is mainstream throughout the nation, cooked using a layer of doused rice and lentils prepared into a thin flapjack and typically loaded down with potatoes, onions and mustard seeds.

It is typically eaten as a fast delicacy or any day meal in south India.

Hyderabadi Biriyani

Hyderabadi biriyani is a finger-licking South Indian preparation of basmati rice, goat, lamb, or chicken meat, lemon, yogurt, onions, and saffron. There are two top selections of the dish – Kachchi (raw) and pakki (cooked).

The exceptional cooking style, known as dum, was accepted by Persia during India's Mughals' system! Hyderabadi dum biriyani is one of the best dishes and won't let itself slip out of your mind so easily!
There are so many flavours inside Indian cooking that it could be challenging to try all Indian dishes in your life. Nevertheless, the above-mentioned Indian dishes are the top players of Indian cuisine, so do give these mouth-watering dishes a try!
The fresh tandoori flavour is one of Victoria's finest and prominent indian restaurants, which provides exceptional Indian dishes and cuisines. In case you have any queries, feel free to contact us via mail at freshtandooriflavour@gmail.com or give us a call on (250) 360-2100