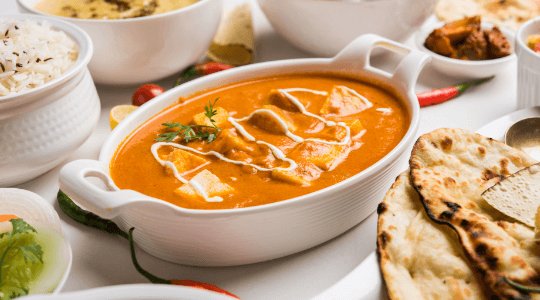 BUTTER CHICKEN
Butter Chicken- the scrumptious and spice-laced dish that satisfies every time. Butter chicken is the must-try for every non-vegetarian and quite possibly is the well-renowned dishes worldwide. An ultimate butter chicken is a perfect blend of creaminess, spiciness, and sweetness. This rich, creamy butter chicken is so tempting that one can't resist tasting it at Fresh Tandoori Flavour. Made with juicy tomatoes and a mixture of Indian spices is a specialty of ours. Garnished with coriander leaves and served with thick cream, it is undoubtedly a lip-smacking dish. Try our butter chicken for authentic Indian taste, which you have been missing for a long period.

ALOO TIKKI CHAAT
Meet AlooTikki Chaat-Isn't this dish so tempting?
Fresh Tandoori serves this crunchy potato patty with chana masala. Serving authentic Indian spices, Fresh Tandoori Flavour ensures to please your palate in a friendly-family setting. We believe that our extensive menu offers you numerous dishes for enjoyment.
Enjoy this Aloo Tikki chaat in our great ambience with the warmth of your loved ones.
CHOLE BHATURE
Chole Bhature is one of our specialty dishes. Almost every Indian has a fondness for this mouth-watering dish, a spicy dish that can rejuvenate anyone's mood. At Fresh Tandoori Flavour, we serve this fried bread(bhatura), chickpeas cooked in onion and tomatoes with raita and salad. We assure you that one bite of it will urge you to taste more.
KADAI PANEER
Kadai Paneer is a popular and versatile North-Indian cuisine made by cooking chunks of paneer in ginger, onion, green peppers and tomatoes. This warming, divine, appetizing Kadai Paneer is much different from shahi paneer and paneer butter masala. Based on the way cooked in a wok called Kadhai, its name came to be known as Kadhai Paneer. If you love Indian flavours and spicy food, then give this dish a try.
FISH CURRY
The absolute delight of having a fish is known only to those who love seafood. Fish, served with a flavour of Indian spices by using Indian cooking techniques, give your palate a marvellous experience. Cooked in ginger and onion, it provides absolute pleasure to one who is fond of Indian fish curry.